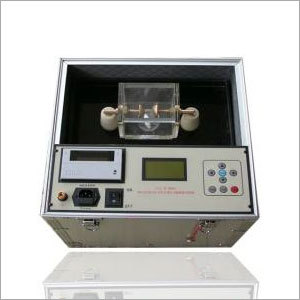 Transformer Oil Test Kit
Product Code : 13
Product Description
Established in the year 2015, we are the reckoned manufacturer and supplier of supreme quality range of Transformer Oil Test Kit. Under the observation of our deft team, this is manufactured using optimum quality materials and ultra modern techniques. The offered kit is intended to be used for testing of Dielectric strength of insulating oils used in transformers & circuit breakers. Moreover, our precious customers can avail this Transformer Oil Test Kit from us at marginal prices.
Features:
Easy to clean, com with an extended service life.
Proffered with reduced direct human contact.
Available with simple operation, automatic procedures (can be processed with a simple press on key)
Input data can be cleared and menu is controlled.
Can ascent software via RS232 increased capacity of anti-jamming and increased precision of testing.
Lightweight, small volume, can be functioned in the open air, expediently.
Capable to store 99 groups oil testing data that is convenient to read as well as simple to print. The testing data can support 100 years under the state of power off.
System timing is running in the state of off-power. (The system time is just for reference and is not the standard timing)
The set will be delivered with smooth as well as continuous voltage output between zero & maximal, having no deformation of waveform.
Visual signal and audio sound will point out the instant of sample failure.
Technical Specifications:
Power supply: AC220V +-10% , 50 HZ
Output voltage: 0 to 60KV, 80KV, 100KV
Capacity: 1.6KVA (for 60KV & 80KV), 2.0KVA (for 100 kV)
Speed of Voltage increase: about 2 kva/s
Voltage inspection accuracy: 3%
Dielectric strength sensitivity : <2KV
Wave form distortion : 3%
Time of dielectric strength: 10ms
Working Environment: Temperature: 0Æ'~ 80Æ', humidity:
max relative humidity 85%
Storage environment: temperature:-30Æ'~ 60Æ', humidity:
max relative humidity 75%
Work height: 1500m (If over 1500M, It can be
customized)
Test cell: Glass, volume 300 to 500 ml, with protective
cover and stirrer.
Electrodes: diameter/hemispherical 2.5mm gap
Dimension & Weight:
Before packed: 380 — 370 — 380 mm
Net Weight: 40 KGS
After packed: 480 — 470 — 490 mm
Gross Weight: 50 KGS
Contact Us
No. 5, Hongshi Street, Jiulongpo District, Chongqing, Chongqing, 400039, China
Phone :86-23-88239845