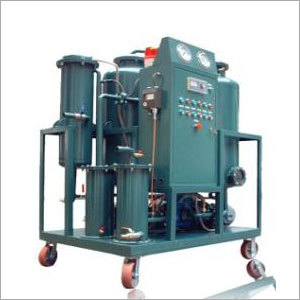 Transformer Oil Purifier
Product Code : 06
Product Description
We are engaged in manufacturing and exporting wide gamut of Transformer Oil Purifier. It is available in various models to meet the changing requirements of our customers. This is used for the dehydration and degasification of electrical insulating liquids including transformer oils, polybutene and silicone fluids, to increase and maintain their dielectric strength. Further, this Transformer Oil Purifier is manufactured by our team of experts with the use of high quality materials. In order to ensure its flawlessness, the offered machine is tested by our quality inspectors prior to dispatch from our end.
Features:
Provided with excellent functionality as well as minimal maintenance.
The Series of ZYB multi-function transformer oil purifier is peculiarly made for regenerating and purifying the old as well as unqualified oils. It is also made for the filtrating the deteriorated insulating oils when the power transformers is less than 220 kv.
The removal of impurities, tracing procedure and separation of dissolved water is in abidance with Uk G technology.
The operation is accomplished by the utilization of particulate filters, special oil regeneration instrumentality, high vacuum de-gasification technology, and is combined with the noted brand of earth. After the treatment, the oil can be re-utilized as new so as to give protection to the electrical equipments operative in a safe and effective mode.
Meanwhile, offered machines can be utilized as the dryer used for drying the electrical setups.
It can also be employed for filling the insulating oil into the transformer under the void situation.
Utterly suited for power stations, power supply departments, electrical apparatus manufacture factories, transformers of railroad stations and several other departments.
The series ZYB system not only provides regular oil cleanup such as dehydration, degassing and particles separation but is also capable to remove the acidity, sludge, hydrocarbons, polar material and several other soluble oil decay products, tend to be discolored.
Duplex 3d stereo-evaporation is given, obviating the liquid water speedily.
High precision as well as multi-stage filtration process is offered.
Removal of impurities as well as assorted sized particles.
Technical Specifications:
Parameters

Unit

ZYB-10

ZYB-20

ZYB-30

ZYB-50

ZYB-100

ZYB-150

ZYB-200

Flow Rate

L/hr

600

1200

1800

3000

6000

9000

12000

Vacuum degree

Mpa

0.08 0.098

Working pressure

Mpa

0.4

â0.5

Temperature degree




20 ~ 80

Power Supply




380V, 50 Hz, 3 Phase (or as per requirement)

Working noise

dB(A)

50 ~ 80

Electric heating power

KW

12

15

18

30

60

90

120

Total Power

KW

14

18

21

35

67

102

135

Inlet (outlet)caliber

mm

25

25

25

32

42

50

50

Dimension(L — W — H)

mm

1400 x 900 x 1500

1500 x 900 x 1550

1600 x 950 x 1650

1650 x950 x 1700

1650 x1000 x 1800

1700 x 1050 x1850

1800 x 1100 x1900

Weight

Kg

380

400

450

600

800

850

900
Contact Us
No. 5, Hongshi Street, Jiulongpo District, Chongqing, Chongqing, 400039, China
Phone :86-23-88239845