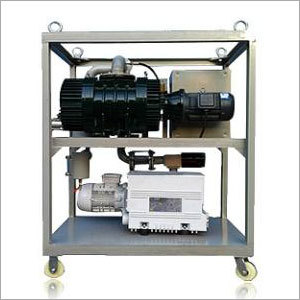 Transformer Evacuation System
Product Code : 11
Product Specifications
Control System

:

PLC Control
Product Description
We are the leading manufacturer and supplier of supreme quality range of Transformer Evacuation System. This is manufactured by our team using optimum quality materials with the help of ultra modern techniques. Used to remove moisture and gases from insulation/oil, this is easy to operate and enable fast production with uniform pressing in a hygienic manner. Furthermore, our precious customers can avail this Transformer Evacuation System from us at affordable prices in diverse specifications.
Features:
Press forming and mild heating
More self life
Very less labour need
Working vacuum range and maximum vacuum degree are superior to other products.
Consist of necessary high quality pipelines and valves to operate the system.
It is installed with special vacuum gauge for accurate indication.
Fully Enclosed for weather proof, can be used in outside fields.
Stable and reliable operation, low noise, and easy to move with trolley.

Technical Specifications:
Technical Parameter

FTVS-30

FTVS-70

FTVS-150

FTVS-300

FTVS-600

FTVS-1200

Gas Pumping Speed (L/s)--- for Roots (Mechanical Booster) Vacuum Pump

30

70

150

300

600

1200

Capacity (m3/h)--- for Roots (Mechanical Booster) Vacuum Pump

108

252

540

1080

2160

4320

Gas Pumping Speed (L/s) --- for Rotary Vacuum

8

15

30

70

300

500

Capacity (m3/h)--- for Rotary Vacuum Pump

28.8

54

108

252

1080

1800

Limited pressure (Pa) for rotary vacuum pump

6—10-2

Limited pressure (Pa) for Roots (Mechanical Booster) pump

5—10-2

Total Electric Power (kw)

1.65

2.6

6

9.5

10.7

20.5

Main Pump Type

ZJP -30

ZJP -70

ZJP -150

ZJP -300

ZJP -600

ZJP-1200

Front Stage Pump Type

2X-8

2X-15

2X-30

2X-150

2X -300

2X -500

Wire size of power supply input (mm2)

1

1.5

3

4

6

8

Power Supply

50Hz, 380V (3 Phase, 4wire) or as per your requirement

Gas Inlet Caliber (mm)

DN50

DN80

DN100

DN160

DN200

DN250

Gas Outlet Caliber (mm)

DN34

DN60

DN70

DN90

DN70

DN90

Overall Dimensions (cm)

125x100x1x70

140x110x198

170x120x210

175x135x20

175—145—215

190—160—269
Contact Us
No. 5, Hongshi Street, Jiulongpo District, Chongqing, Chongqing, 400039, China
Phone :86-23-88239845