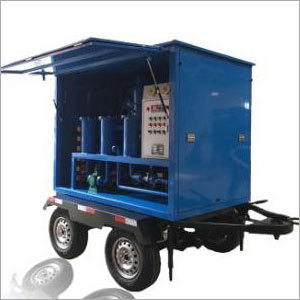 Portable Oil Treatment Plant
Product Code : 05
Product Description
Since our inception year, we have been engaged in manufacturing and supplying high quality range of Portable Oil Treatment Plant. Under the observation of our adroit team, this is manufactured using high grade materials. Excellent in functionality, this plants work on low temperature and high vacuum principle. The is ideally suited for pole mounted transformers, bushings, conserverator and similar small fluid volumes. Our clients can avail this Portable Oil Treatment Plant from us at market-competitive prices.
Features:


Rendered with extended serviceability.
Manageable to use, clean and store.
Assists in making the working procedures fast and efficient.
The specific series ZYD-O Mobile Trailer affixed and fully integrated type insulating oil treatment plant is primarily utilized for handling the switch oil, mutual inductor oil and unqualified transformer oil in several large power instruments, which are up to 110 kV at outdoors. The plant is resistant to impacts grounded by sand, wind, weather etc.
Offered oil treatment plant is assembled in the mobile variety.
The Series ZYD-O is peculiarly developed on the base of Double-stage vacuum transformer oil filtration device Series ZYD. It is accessible with the same function of speedily removing water, tracing water & gas, particles as well as hydrogen, methane, acetylene and several other pernicious ingredients from oil.
Proffered with an effective dielectric strength, these are insured with electrical equipments working normally and harmlessly.
Trailer (single-axle as well as double-axle are accessible as per the requirement) which can be mounted on motor vehicle to move to any outside fields by public roads to proceed the treatment works at outdoors.
Series ZYD-O can also be utilized as a self-directed vacuum source with the provisioned functions of vacuum pumping, vacuum drying and vacuum oiling.
All components of the series such as motors, filters, tanks, pumps, valves, controls, pipelines etc, these are entirely protected and enclosed by steel frame cover & heavy duty doors artifacts, organized for lifting crane (accoutered with lifting hooks).
The internal equipments can be expedited via the instrumentality of door locks set up at the boundary of the enclosure.
Technical Specifications:
Parameters

Model Unit

ZYD-30

ZYD-50

ZYD-100

ZYD-150

ZYD-200

ZYD-250

ZYD-300

Flow Rate

L/H

2000

3000

6000

9000

12000

15000

18000

Working Vacuum Degree

MPa

-0.08 -0.099

Working Discharge Pressure

MPa

0.3




°C

20 80

Operation Temperature

°C

40 ~ 70 (65 is best)

Power Supply




380V, 50Hz, 3 phases (or as per your requirements)

Working hours without Trouble

Hour

4000

Continuous Working Hours

Hour

150

Ambient Temperature




-25 55

Working Noise

dB(A)

65 ~ 90

Heating Power (adjusted available)

kw

30

36

48

60

72

80

120

Total Power

kw

35.5

42

52.5

68

82

93

135
Contact Us
No. 5, Hongshi Street, Jiulongpo District, Chongqing, Chongqing, 400039, China
Phone :86-23-88239845