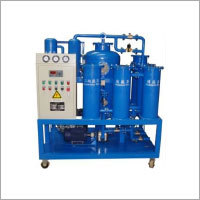 Lubricating Oil Purifier
Product Code : 07
Product Description
Since our inception, we are instrumental in providing high grade Lubricating Oil Purifier. Owing to its robust design and optimum functionality, this is used for the removal of free and soluble water, dissolved air and gases and particulate matter. It is manufactured under the stern guidance of our team using high grade materials and advanced technology in accordance with predefined industry norms. Our valued clients can avail this Lubricating Oil Purifier from us in diverse technical specifications at industry leading prices.
Features:
Assembled with robust construction, extended operational life and commodious internal design.
The Series LOP vacuum lubricating oil purifier is employed to purify as well as recover the assorted industrial lubricating oils such as coolant oil, quench oil, mechanical oil, gear oil, hydraulic oil, refrigeration oil, heat treatment oil etc.
Prevent the lubricating oil to be contaminated by impurities, water, gas and assist in increasing the service-life of machines as well as equipments.
The gas separating and advanced dehydration system as well as duplex 3D stereo-evaporation technology insure the removal of water and gas in a speedy manner.
Proffered with powerful ability of breaking emulsification, separating free water & liquified water content.
The Series LOP vacuum Lubricating oil purifier comes with an efficient capability to take out the impurities such as gas, water etc.
Having deep precision and filtering,
Bettering the properties of lubricating oil, such as flash point viscosity. After purification by this oil purifier machine, the oil can be reused in various industrial equipments and reduce ecological disposal problems.
Has strong ability to take out particle & impurities via the use of multi-stage high precision filters.
Electric control panel is provisioned with pressure indicators, indicators, vacuum indicator, digital type temperature controlling systems with automated shut-down system.
Series LOP vacuum lubricating oil purifier is widely applied in electric power, transportation, machinery production, railway, petroleum, metallurgy, chemical, mining etc.
Stand as the most versatile, durable, reliable, and user-friendly purification solutions in the industry.
Proffered with optimal mechanical performance, top-quality components and craftsmanship
Insures the years of maintenance-free procedure with outstanding performance.
Technical Specifications:
Item

Unit

LOP-10

LOP-20

LOP-30

LOP-50

LOP-100

LOP-150

LOP-200

Flow rate

L/H

600

1200

1800

3000

6000

9000

1200

Vacuum degree

Mpa

-0.06 ~ - 0.095degree

Working pressure

Mpa

0.4






0 ~ 100

Operation Temperature




50 ~ 70

Demulsification

Min

New oil15min, running oil30min

Power supply




380 VAC, 50 Hz, 3 Phase (or as per required)

Working noise

DB (A)

65 ~ 90

Electric heating power

KW

18

24

26

30

48

60

96

Total electric

KW

19.3

25.3

27.6

32.6

56

69

106.5

Inlet (outlet) caliber

mm

25

25

25

32

42

50

50

Dimension

mm

1500 x1000 x 1500

1550 x1050 x1600

1600 x1050 x1600

1600 x1150 x1700

1750 x1250 x 1800

1900 x1600 x1950

1900 x1700 x2000

Weight

Kg

450

550

600

750

850

1000

1200
Contact Us
No. 5, Hongshi Street, Jiulongpo District, Chongqing, Chongqing, 400039, China
Phone :86-23-88239845