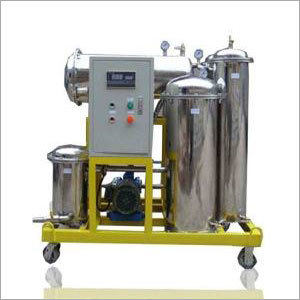 Fire Resistance Oil Purifier
Product Code : 08
Product Description
With an experience of many years, we are engaged in manufacturing and supplying a wide range of Fire Resistance Oil Purifier. This is used in the field of extra high voltage transmission and in the manufacture of electrical apparatus. It is used for electronic and radar equipment, vacuum pump sealing oils, brake fluids and refrigeration oils. In order to ensure its high functionality, this is tested by our quality inspectors on numerous parameters. Further, this Fire Resistance Oil Purifier is available at marginal rates.
Features:
Accessible with hassle-free functionality, sturdy construction and low power consumption.
The body of the machines is made of acid resistant stainless steel materials, which are congenial with fire- resistant oil.
The range is combined with technologies of multi-stage filtration system, vacuum dewatering and spic-and-span adsorbent so as to insure that treated oil has fire-resistant oil properties.
Precocious medium cooling system is provided.
Efficient electric heating system is accessible with less power consumption, heating uniformity, give safe and dependable operation.
The Stainless steel body as well as the pipes & filtering parts are anti-corrosion, and durable.
Proffered with Duplex 3D Stereo-evaporation technology, accoutered with unique as well as degassing components and advanced dewatering.
Capable to remove water, gas and several other particles in a rapid and effective manner.
Accoutered with an interlocked protective system that can connect liquid level sensor, heater and oil pump.
Obviate the chances blank pumping, oil leak, blank heating, and electricity leak. In case of any fault or failure, it will be power off in an automatic manner.
Technical Specifications:
Parameter

Unit

LOP-I-10

LOP-I -20

LOP-I-30

LOP-I -50

LOP-I -7

LOP-I -100

Flow rate

L/h

600

1200

1800

3000

4200

6000

Working vacuum

MPa

-0.07~-0.095

Working pressure

MPa

0.4

Power supply




380V 50HZ 3Phse (or As per user's option)

Working noise

dB(A)

65~80

Operation Temperature




40 ~ 60

Heating power

Kw

12

18

24

30

36

54

Total power

Kw

17

20

26

33

39

59

Diameter of inlet and outlet

DN

25

25

32

40

40

40

Dimension

L

mm

1000

1100

1250

1400

1500

1700

W

mm

800

850

900

1100

1250

1300

H

mm

1200

1400

1500

1600

1700

1800

Weight

KGS

250

350

550

750

900

950
Contact Us
No. 5, Hongshi Street, Jiulongpo District, Chongqing, Chongqing, 400039, China
Phone :86-23-88239845